Back to all posts
What's new in itSeez3D Scanner 2.0.1 for Windows
April 12, 2019
Hello friends!
We are back with the update for the itSeez3D Windows Scanner application for Intel® RealSense™ 3D cameras. Here are some exciting new features:
1) Full support for Intel® RealSense™ D435i.
2) We improved the tracking for full body scanning, making it more smooth and robust. Also, we added the possibility to change the FPS of the sensor during the scanning procedure. Decreasing FPS to 15 frames per second can be helpful if you run the application on a device with lower CPU frequency.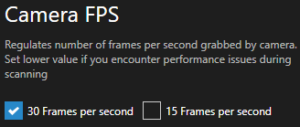 The updated Windows scanner application is already available on the webpage https://itseez3d.com/realsense-scanner-2-0.html, make sure to check it out.
Happy 3D scanning!
itSeez3D Team
Back to all posts