Back to all posts
Introducing New Pricing Plans, Updates for iOS app and itSeez3D Websites
October 31, 2016
At itSeez3D, we are dedicated to providing the best in the world tool for 3D scanning with consumer-grade mobile hardware. Over the past year we have worked very closely with our early customers to gather feedback on our product, pricing and features. We've studied, we've tested ideas, we've scanned and learnt a lot.

As we continue to develop and improve our service, we are rolling out important changes, effective October 31, 2016:

1) We're introducing new pricing plans to enable us to service our professional and business users better, while continuing to offer a free option for non-commercial use. Our pricing model is now subscription-based and you no longer need to pre-pay $1000 to sign up for the itSeez3D commercial account. Instead of paying in advance, you can sign up or switch to one of the new subscription plans and pay as you go! We hope that the new pricing model will make it much more flexible and easy to use itSeez3D in your 3D projects. Scanning remains free and unlimited for everyone!

Here are the new subscription plans: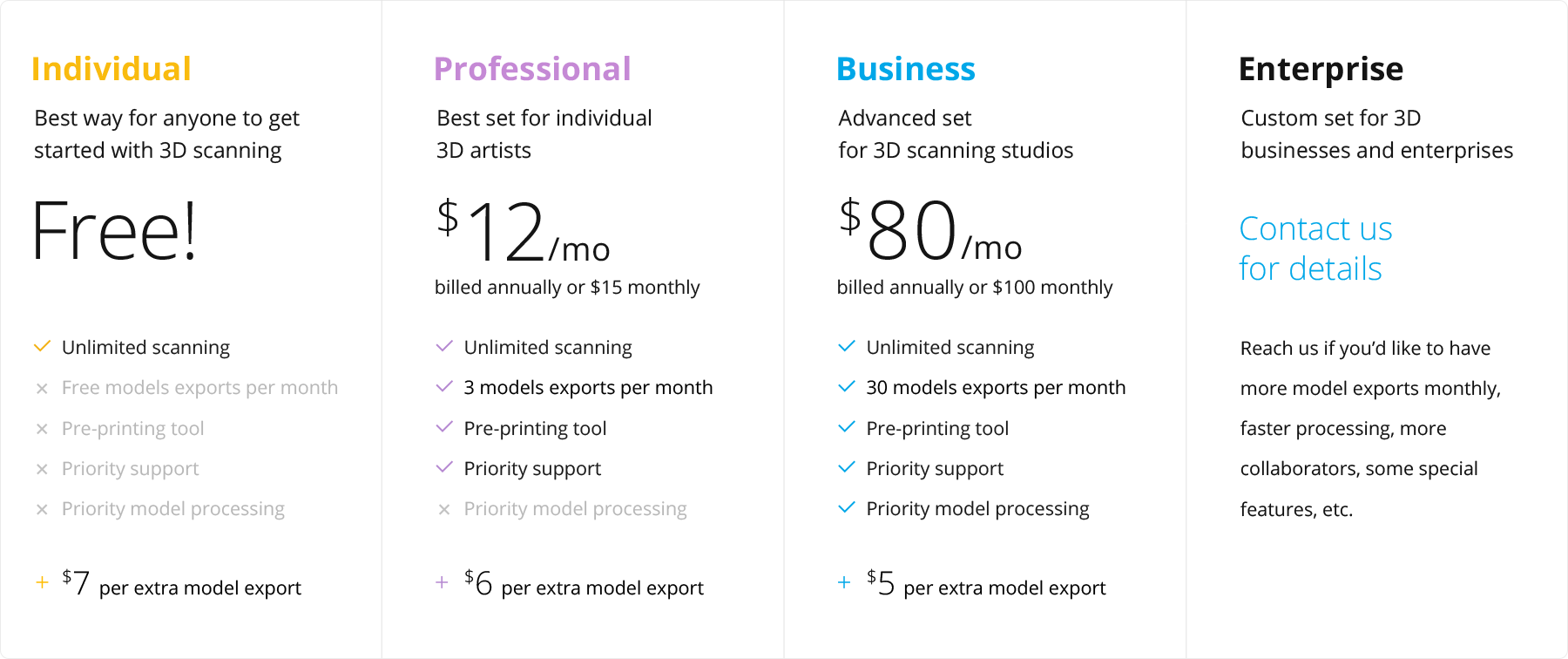 Individual plan has no monthly fee and offers unlimited scanning, as before. What's new is that you now need to purchase model exports to be able to use them outside itSeez3D application (3D printing, 3D modeling, etc.). Model export will cost $7 and you can buy it with an in-app purchase or from your itSeez3D web account, in just a couple of clicks. If you were using itSeez3D free (non-commercial) version before, you will be automatically switched to the Individual plan, but all models you already scanned will remain free to export.


Professional plan is designed for individual 3D scanning professionals who use the app on a more regular basis. It has 3 pre-paid model exports per month and allows to prepare a model for 3D printing: resize / scale, add pedestal, make a hollow model and more. The plan is $12/mo when billed annually or $15/mo when billed monthly, and each extra export will cost $6 per model.


Business plan is geared towards businesses that provide professional 3D scanning / printing services in a studio or onsite (at customer events, trade shows, etc.) on a full-time basis. The plan includes 30 pre-paid model exports per month, pre-printing tool and offers priority model processing which can be quite helpful when scanning a large number of people at a time. The new Business plan is now $80/mo when billed annually or $100/mo when billed monthly, and each extra export will cost $5 per model.

If you are already a business user, you have an option to switch to new pricing or remain with your current plan. We also have an enterprise plan which requires getting in touch.

Whilst our pricing structure is tailored to fit our customers, we are also able to create custom plans if need be, or provide you a discount code in case of non-commercial use. We'd be happy to work with you to fit your needs.

See the new plans here, and read our FAQ for more information.

2) We're releasing an update for our iOS app – itSeez3D 4.1. We've added an opportunity to buy model exports for users on Individual plan via in-app purchases, added support for iOS 10, improved app stability and added new "Web" button, so you can easily access your itSeez3D web account from the app.

itSeez3D 4.1 will be rolled out to the App Store over the next 24 hours and you will have 2 weeks since the release date to update to the latest version – until November 14, 2016. After that, we will stop supporting itSeez3D 4.0 and older versions, so please make sure to update to 4.1 within next 2 weeks.

Please, note that the old Free plan (with a free export option) will be available during the 2 weeks after the release of 4.1 only for older app versions. It will not be available in the web account and in the 4.1 app and future versions.

Download the new version on the App Store.

3) We've also re-designed our main website (itseez3d.com) and itSeez3D web account (accounts.itseez3d.com) with new information about pricing plans. You can now change your current plan on the Pricing page on the main website or inside your itSeez3D web account.

If you have any questions regarding these changes, feel free to email us at support@itseez3d.com. Our door is always open and we would love to hear from you!

Happy scanning!
Back to all posts