Back to all posts
Bodygee – Revolutionizing The Body Analytics Market
August 20, 2019
Hello 3D scanning friends! Today we would like to showcase how our customer Bodygee is using itSeez3D scanner for helping people to be in great shape!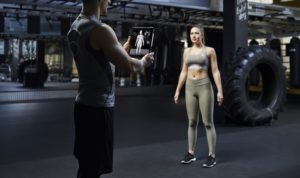 ItSeez3D mobile 3D body scanner used by Bodygee
Copyright: www.bodygee.com
Why are New Year's resolutions to workout more gone by the end of January? – The two brothers Marcel and Philipp Frikart asked themselves this question in 2015. There had to be a better way to motivate people to stay active. Inspired by the recipe for success developed by brain researchers at Harvard University, where the desired behavior is reinforced by a reward, they developed Bodygee (www.bodygee.com). Bodygee analyzes and visualizes your body transformation in a completely new way and makes it available to fitness clubs, personal trainers and their customers. The reward: Progress that can be seen and leads to a lasting change in behaviour.
BMI, BIA – Now It's Time For Bodygee
Many gyms today still use scales, which measure body fat through Bioelectrical Impedance Analysis (BIA). Thereby a small dose of electrical current flows through the body for about 20 seconds. BIA measures the impedance (= electrical resistance) of the body to the current and estimates the body water. The body fat is then calculated using a mathematical formula. This principle is based on the assumption that the body fat percentage can be estimated due to its different water content compared to other tissues.
Bodygee wants to disrupt this market and set a new standard for body composition analysis and fitness progress tracking. With the help of 3D technology, the body is measured, analyzed and the workout success is made visible in a web application for the trainer and a mobile app for the customer.
When developing its body analytics solutions Bodygee relied on ItSeez3D as its 3D scanning technology provider.
"We knew that there were already best in class 3D scanners on the market. This is why we chose to partner with ItSeez3D as an existing affordable, mobile 3D scanning solution and focus on what we can do best: Building a software, where the different data will be aggregated and visualized", says Marcel Frikart, Founder and CEO of Bodygee.
Visualization As A Tool For Fitness Motivation
Bodygee web application interface for fitness trainers
Copyright: www.bodygee.com
With non-invasive 3D cameras, the scanner captures the customer's circumference data and displays an exact 3D model. This is done with infrared light reflected from the body, but invisible to the eye. Digital measurements are then performed on the body surface, similar to a tape measure, but without manual intervention. In addition, the body composition is calculated from anthropometric data such as weight, height and body circumference using mathematical formulas.
In contrast to conventional methods, 3D scanning eliminates measurement errors due to imprecise handling or poor preparation. Influencing factors such as the customer's water or food intake before the measurement can be eliminated. In order to improve the measurement precision even more, Bodygee also uses a turntable in addition to the mobile 3D scanner by ItSeez3D. The customer stands on the turntable for 90 seconds and can be more easily scanned.
The data such as weight, Body Mass Index (BMI), body fat, posture, waist to hip ratio, body shape and Resting Metabolic State (RMS) is then calculated and visualized in the Bodygee coach software together with a photo-realistic 3D avatar of the customer. The customer can always access this data through a mobile app and can even share his 3D model with friends via social media. This visualization is the key to keeping customers engaged with their workout routine.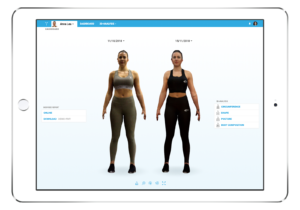 Photo-realistic 3D model of the customer in Bodygee's coach application
Copyright:www.bodygee.com
The advantage is that, unlike body fat scales or other 3D scanning providers, Bodygee combines many different data sources and lets coaches and customers process this data easily.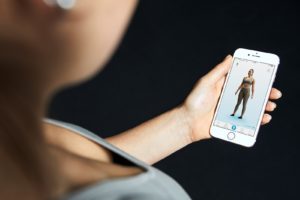 Bodygee mobile app for customers
Copyright:www.bodygee.com
Empowering Fitness Clubs To Differentiate Themselves
Currently, Bodygee sells the mobile ItSeez3D scanner together with it's software to fitness clubs and individual personal trainers. Gyms and trainers can differentiate themselves in a highly competitive market by offering an amazing experience to their customers during the body measurement analysis. It also allows them to respond better to their customers by personalizing their workouts and keep them motivated through visible results. Thus the combined Bodygee products provides a great tool kit to upsell more personal training sessions and other services. It is easy to set up and doesn't require in-person training. Bodygee has provided the onboarding entirely online.
"We see that the fitness market is booming and digitizing. The collection of training data via networked fitness equipment and personalization is becoming increasingly important. Customers want to know what is going on in their bodies and want to see progress and share it with their friends. In any case, our existing customers are wowed by the experience during their 3D scan", says Frikart.
Value Proposition To Bodygee Customers
➔ Motivation through photorealistic visualization of body transformation
➔ Detailed easy understandable reporting
➔ Simple and reproducible application
➔ High accuracy based on scientifically sound calculation methods
➔ Personalization of the program for customers
➔ Upselling of workouts, personal training sessions and other services
➔ Complete solution with hardware and software for trainer and customer
➔ Simple mounting of the components
➔ Fast scan process
➔ No hardware maintenance
➔ Web access to the software with regular upgrades
Bodygee sees itself as a body analytics company. In this market they want to become the leading brand for solutions around body measurement, analysis and visualization. With the help of their data aggregation, everyone should be able to visualize their future dream body and get the right training program. The company also wants to use machine learning in the future in order to tell you exactly which workout is best for you.
Back to all posts