Back to all posts
Announcing the new release of itSeez3D 3D scanning app: on-device model preview is now available!
June 25, 2015
We are excited to announce the new release of our 3D mobile scanner application – itSeez3D 3.0. We've heard your feedback, and introduced several important updates, as well as added new features to enhance your 3D scanning experience and help you get more out of your 3D master-pieces. This release will be especially helpful to those who are using itSeez3D professionally, such as scanning customers for 3D printing.
Here's what you'll be able to do in the updated app:
Preview your models on the fly
We've added a "preview" mode that now lets you see your 3D scan right from the iPad before sending it to the cloud. It takes up to 30-60 seconds (versus 5-15 minutes for a reconstruction in the cloud) to create a preview version of your model in a slightly lower quality to see what it looks like. And you can then send the model to the cloud as before to get the final high-quality 3D scan.
| | |
| --- | --- |
| Preview 3D model | Final 3D model |
To generate a preview model after you're done scanning, just click on the model and tap "Local preview". Best of all, you don't need Internet connection to create a preview.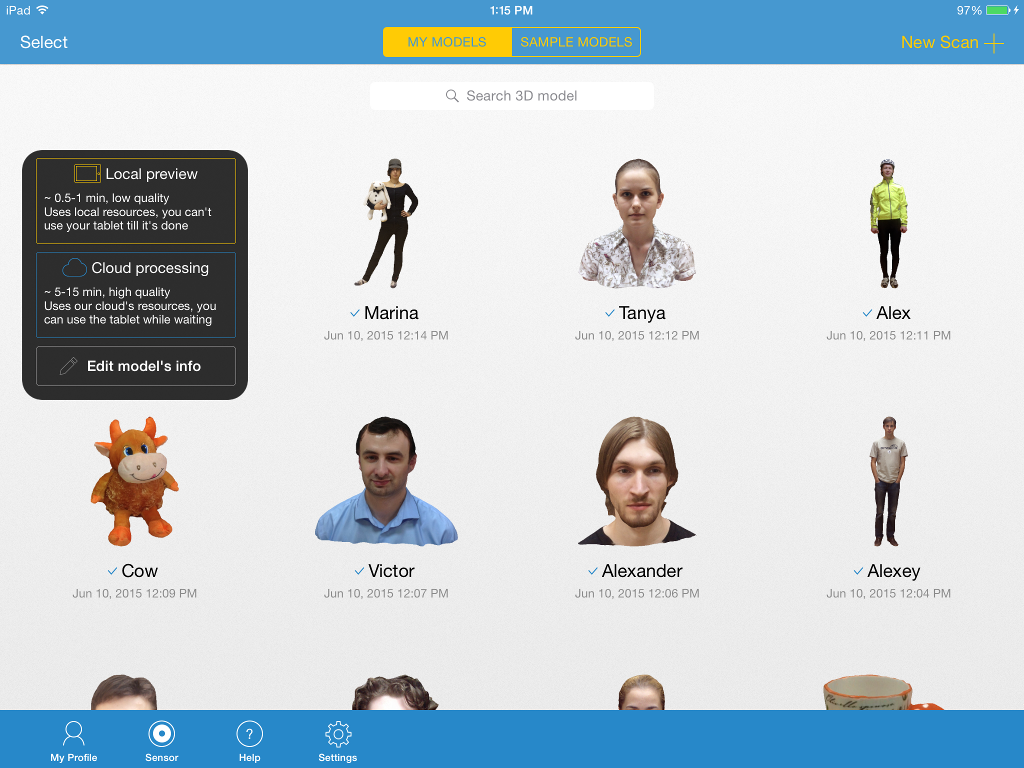 Update model info easily
Our new "Edit model's info" button – located in the preview pop-up window – now allows you to edit model's information, such as name, description before sending it to the cloud.
WRL export is now supported
We've heard your feedback, and now the app allows to export your scans not only in .PLY and .OBJ, but also .WRL file format to create high quality 3D printed models.
Business mode
We have started testing our business mode with few selected partners. Stay tuned, we will share an update on this shortly!
The updated iOS app for iPad will be rolling out to the App Store over the next few days, so make sure to check it out.
Happy mobile 3D scanning, everyone!
The itSeez3D team
Back to all posts